Aypa Facial Stone Massage
Experience this vibrant facial massage rooted in the ancient Andean stone-energy knowledge.
It's performed with a locally handcrafted, energetically charged Serpentine stone
found in the volcanic area around the mountains of Machu Picchu called Aquas Calientes, a highly sought after refuge for its thermal baths.
Designed by Mirella Crovetto, The Aypa Facial Stone Massage
releases muscle tension, removes toxins, activates circulation, blurs fine expression lines, reduces puffiness, decongests, tones muscles, and help you connect with your inner self.
Learn more about this unique facial massage and the volcanic energy of The Aypa Stone.
"Since the day I hiked Apu Putucusi,I felt I had to share my experience, so I created the Aypa Stone. This small local gem concentrates all the healing energy from a powerful feminine place that truly gets in contact with you when you open yourself to it. It has the ability to enhance your well-being, and promote self-reflection, as well as physical and emotional rejuvenation." -- Mirella Crovetto
Intention
The Aypa Stone massage allows you to experience the true connection between the vibrant earth and your cells to help keep you rooted in health and well-being. The 3 sides of the stone are designed to activate, stimulate and strengthen different areas of the face and body.
Physical Level
The stone's naturally energetic properties have the ability to stimulate and regenerate cells,
allowing nutrients to be better absorbed. You can feel the stone's strength and energy nurturing your skin, leaving it glowing and returned to health.
Emotional Level
The Aypa Stone works on all the chakras to cleanse and recycle blocked energy, provide "emotional support that comes from radical changes." Since the stone comes from a highly charged volcanic area, the energy from the stone enters your body, and gives your cells a part of its vibration.
The Secret to
the Stone's

Uniqueness?
In the Andean world the stones represent the strength of the Earth and are connected with Sacred Mountains. The magical Aypa Stone is sustainably sourced from a unique magnetic area called Aquas Calientes in Peru. This place is one of the most powerful energy vortices on the planet.
Perhaps because of the special energy of this inaccessible place in the middle of the Andes mountains, the Incas chose to build the ancient citadel. This place channels energies, allowing them to flow, and for you to recharge from them. For example, if you put your hands a few centimeters from the Intihuatana rock, you will feel the radiation of the energy.
Caves with Peruvian Serpentine Stone
These caves are in a magnetic zone so this beautiful mineral has special magnetic properties, that are traditionally linked with regeneration and longevity.
This sacred mountain is considered a female spirit and is very special.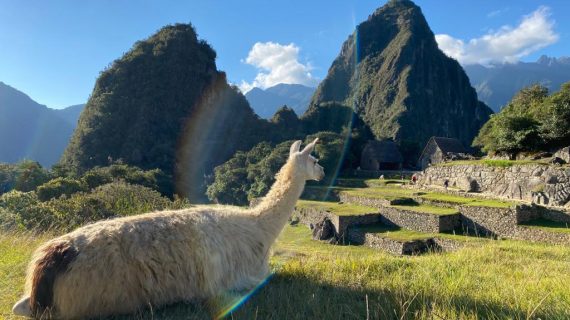 AYPA FOUNDER & INSTRUCTOR
Mirella Crovetto
"It is true that the earth of my native Peru, with its thousands of endemic plants which possess amazing benefits, is an endless source of inspiration to me to conceive and design natural-friendly cosmetics able to delight all skin types. I have recovered ancient Andean wellness recipes and, with a more personal view and experience of health and beauty, I have integrated them into our contemporary world, while staying true to the Andean values.

"Aypa is the result of this alchemy. With its unique products and spa treatments, it magnifies Peruvian local resources to help discover an authentic lifestyle full of naturalness, wellness, sensorial pleasures and relaxation. It's an invitation to travel inside my dreamed Peru, connect with the soul of its earth and get in harmony with nature. This return to the essence is a sublime step to reach the absolute of physical and mental well-being — a step that I hope you will enjoy!"